TYPES OF ASBESTOS
Asbestos is a group of six fibrous minerals that occur naturally in metamorphic deposits located around the world. Of the hydrous magnesium silicate variety, the six types include tremolite asbestos, actinolite asbestos, anthophyllite asbestos, chrysotile asbestos, amosite asbestos and crocidolite asbestos. Asbestos is a chemically inert mineral that is fire resistanct and does not conduct heat or electricity (making it a commonly used insulator), is insoluble and is without odor. Asbestos' combination of properties made it a valuable resource, regularly used in buildings, automobiles, shipyards and a variety of household products.
Tremolite Asbestos

Tremolite
Tremolite asbestos was not often used industrially or commercially; though it could be found (uncommonly) in products such as certain talcum powders in limited amounts.
Actinolite Asbestos

Actinolite
Actinolite asbestos was not often used industrially or commercially. Airborne actinolite fibers are easily inhaled and severely damaging to the lungs.
Anthophyllite Asbestos

Anthophyllite
Like tremolite and actinolite, anthophyllite was not often used industrially or commercially; though it could occasionally be found in certain vermiculites.
Chrysotile Asbestos

Chrysotile
Also called white asbestos, chrysotile asbestos is unique in that it has a serpentine fiber-formation (curled fibers) compared to the amphibole fiber-formation (straight, needle-like fibers) of the other five asbestos types. Chrysotile asbestos is less friable (less-likely to be inhaled) than other types of asbestos. Chrysotile asbestos is less likely to be inhaled and therefore viewed by many to be the safest of the asbestos types.
Amosite Asbestos

Amosite
Also called Grunerite or brown asbestos, amosite asbestos is an amphibole originating in Africa. Amosite was used industrially for various purposes such as cement sheet and pipe insulation.
Crocidolite Asbestos

Crocidolite
Also called blue asbestos, crocidolite asbestos is an amphibole mineral that can be found in Africa and Australia. On the opposite end of the spectrum than chrysotile asbestos, crocidolite is viewed to be the most dangerous type of asbestos.
---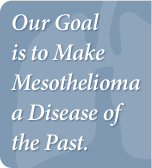 For questions related to the foundation and to make contributions please contact:

Executive Director
Toll Free:
(800) 909-Meso (6376)
3011 Townsgate Rd, Suite 450
Westlake Village, CA 91361
For more information and other questions contact:
(800) 909-6376
©2013 Mesothelioma Research Foundation Of America